Welcome to My Online Studio
"I am an artist, silk painter, master seamstress, color consultant and educator. I enjoy speaking and presenting at national conferences and sharing my knowledge and techniques for making beautiful wearable art and handmade jewelry. Whether at my studio or an upcoming class or retreat I look forward to seeing you". ~ Judy
Shop Online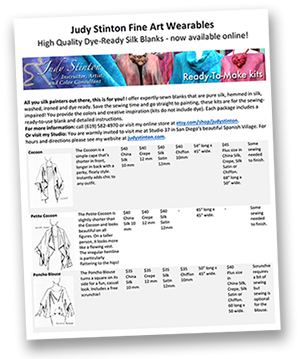 Looking for dye-ready silk blanks? With Judy's expertly-sewn, beautifully designed garments you can skip the sewing and go straight to painting! Judy offers 12 of her most popular garments including the Cascading Stole, Ruana and Cocoon. Whether you're creating gorgeous items to sell or beloved gifts for friends and family, Judy's high quality blanks give you a finished product that will deliver years of enjoyment. Download a product brochure or view all 12 blanks on Judy's Etsy shop.

Open Studio
Judy's Studio in Balboa Park's charming Spanish Village is open every Friday and Saturday from 11am - 4pm. Stop by and say hello! Get directions.

Seeing is believing with feather artist Carl Jepsen who creates beautiful feather masks, wands, fans and other "healing feather art" that you must see in person to appreciate.

Painter/ Printmaker Joan Nies creates landscapes, still lifes and more in oils, prints and other media. Each piece is perfectly complimented by a gorgeous specialty frame.